SEOUL GARDEN
Bugis Junction
200 Victoria Street #02-52
Bugis Junction
Singapore 188 021
Tel: 6334 3339 Fax: 6336 1338
(Opening hours: 11.30am to 10.30pm)
HALAL-certified
To see the prices, click here
A blog visitor wants to find halal kimchi thus I felt that there is a need to search for it too. A sudden craving for kimchi suddenly kicks in…
And so SUPER-spy to the rescue! I found one in ZINGDO @ Jurong entertainment centre (only branch) and the other is in Bugis Seoul garden.
Not only they have the cold non-spicy kimchi, they also have kimchi seafood broth as the steamboat base. The kimchi seafood is mild spicy as a soup base. It's not bad, not so spicy nor sourish ..all mild,some kids might even like it…
Had not step into Seoul garden for ages (5 years ago was my last visit). That time, I think it was very popular and has no competitors like Sakura buffets ..and so their spread was very huge and long. Much varieties. But now, I think it has been cut to half…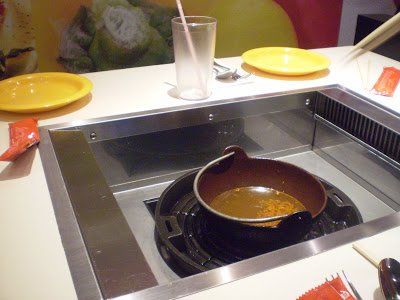 Round 1


Round 2


Round 3


Halal kimchi is what I've been searching for…here it is.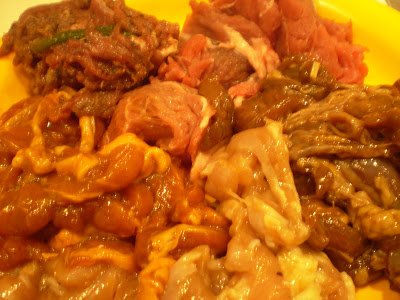 Meat galore!! Grrr…


varieties of crackers/keropok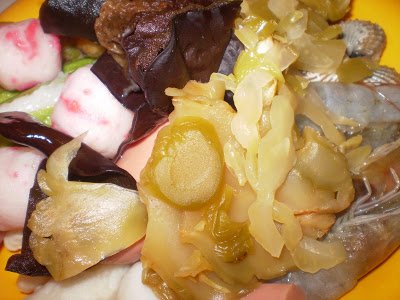 Mushrooms, black fungus and more..


lots of fresh leafy vegetables..


Few pieces of sushi like tuna or california roll (wasabi also provided)and some muffins and malay kuehs like kueh bakar..


Sweet plain Spaghetti (not bad)


Some cooked chicken fillets and steamed corn on cob.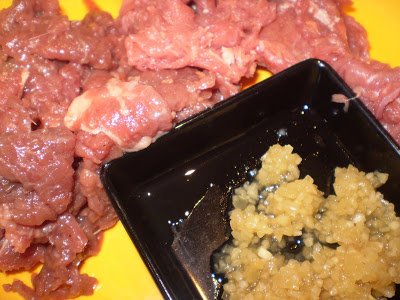 I like the beef steak slices and bulgogi beef (tinge of sweetness)when bbq/grilled. Also there is chopped garlic which u can use to add some flavour to your soup or just eat like that..hehhe! Make sure, no dates/appointments after that…


cold vegetable salad


Varieties of noodles


I think about 6 or 8 flavours of KINGS ice cream like strawberry, chocolate chip, mango (NICE!) , ripple, mint, yam…and peanuts toppings, fruits..


Do-it yourself ice-kacang. They got lots of toppings like sea coconut, jack fruit slices, selaseh/tadpole jelly, cubes of colourful jellies, mini fruits e.g hawthorn fruits..and lots more.


Warm Cheng tng is very sweet.I think u need to put some shredded ice on it like ice kacang. Consist of lots of longan , white fungus and red dates.
VERDICT: $$20 per person is okeylah especially if come in big group chit chat while cooking. not bad…
Other branches:
Causeway Point
1 Woodlands Square #04-01
Causeway Point
Singapore 738 099
Tel: 6893 6339 Fax: 6893 6338
(Opening hours: 11.30am to 10.30pm)
Ngee Ann City
391A Orchard Road #05-10
Ngee Ann City
Singapore 238 873
Tel: 6836 1339 Fax: 6836 1338
(Opening hours: 11.30am to 10.30pm)
Tampines Mall
4 Tampines Central 5 #04-02
Tampines Mall
Singapore 529 510
Tel: 6786 1339 Fax: 6789 1338
(Opening hours: 11.30am to 10.30pm)
Marina Square
6 Raffles Boulevard #02-08/09
Marina Square
Singapore 039 594
Tel: 6339 1339 Fax: 6337 1338
(Opening hours: 11.30am to 10.30pm)
(Visited 9 times, 1 visits today)