The last time I was here was ages ago. This place is always a favourite haunt among Singaporeans even before it undergo a "facelift". Aside from delicious food, one can stroll along the coastline and breathe the fresh sea breeze while strolling lovingly with your loved ones and families.
Last time, I learnt my windsurfing (in my youth) here. Now the place is gone and is being replaced with cable ski. Such lovely memories…
If u have the time and the strength, walk to bedok jetty, nice scenery and exercise heheh! i think maybe 30mins stroll, perhaps..? Rollerblading will take shorter time…15mins, maybe?
Anyway come around 5pm onwards till late night to enjoy the food here..Best eaten in large group, more shiok..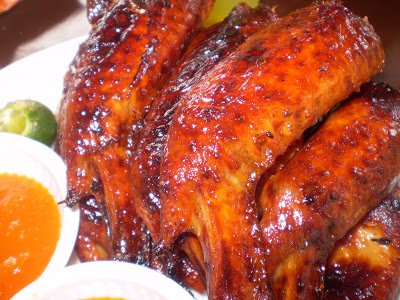 BBQ chicken (recommended by SHF.Thks!) is so SHIOK!! Very moist and thoroughly cooked. No need chilli sauce. So sedap…One of the best for me!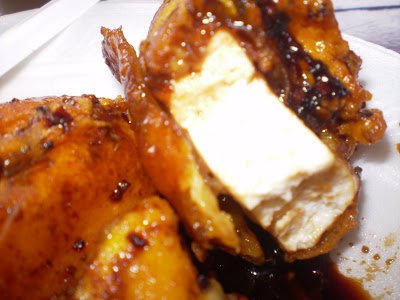 Tahu kicap/fried soya beancurd in dark thick soya sauce is a popular food over here! Eat while piping hot with the thick yummilicious sauce and top with some sliced vegetables. Previously, after being recommended by SHF(spore HALAL food forumer), I tapow them home to avoid "human congestion". Now I got the chance to eat it there…


Definitely love this mutton satay. All the satay that I ordered can eat them without gravy. "So good u can even eat it on its own".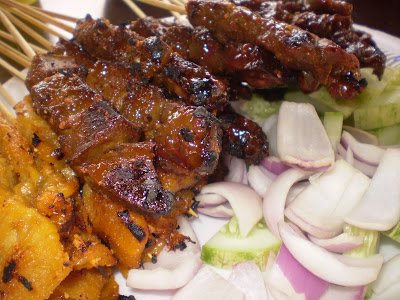 Satay hati/liver is nice! Normally if the hati is overcooked , it will be dry but this is not…yumyum!


This is satay babat/beef stomach. This babat normally has a stench and is tough but this one melts in the mouth and has no pungent smell.


Ordered fried rice pineapple but I was searching for the pineapples but cannot find one, I think it was a misunderstanding but it was a nice fried seafood rice with fresh sotong, prawns…yum yum!


This is kway teow goreng with beef. U can opt for cockles one too. The kway teow is like mild seafood flvaour with soft beef brisket. yummy!

(Visited 4 times, 1 visits today)