Razack's kitchen is owned by a couple who is chinese muslim. I was told previously they were from Hongkong. the lady owner is very friendly and very customer oriented. Their food is of cantonese,sichuan influence. I've tried their yam basket, shark fins soup/fish maw soup..quite yummy!
324F Changi Road
Singapore 419799
Tel: 9691 6982 / 9476 2278
Mon, & Wed-Sun: 11.30am – 10.30pm
(Closed on Tuesdays)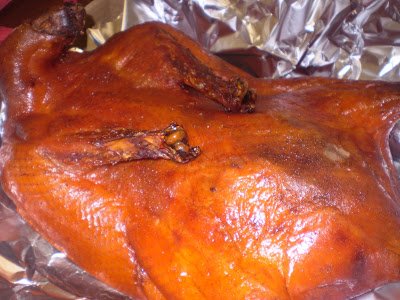 This whole duck cost about $30 per bird. Can feed up to 7-10 person. Very shiok!!! It's crispy and tasty. Must eat ASAP/on the spot is BEST or else it will be a bit cold and chewy but still as nice and delicious.Must book one day ini advance. They also have salt-baked chicken.(maybe one day will try insya-Allah) also need 1 day order in advance. I think if u have any chinese HALAL food that cannot be found in singapore, u can asked them to whip up for u of course need to ask in advance.They are so friendly that I felt so at home.
(Visited 6 times, 1 visits today)