The last time I was here was in the year 2000. At that time it is like a sleepy town but now it became like a busy town with vehicles moving here and there..bustling with tourists and they even have one of the biggest shopping mall in South East Asia? (I think).
Prefered the old sleepy town though. Not so commercialised. Now u felt like u are entering mini-KL.


Last time trishaw rides are cheap…now MYR$40 per trishaw for 1 hour can request for 30mins also.. Malacca streets are so uneven and hilly at times and so people like me, they have to push instead of cycle heheh!..(alamak! Need to diet!!)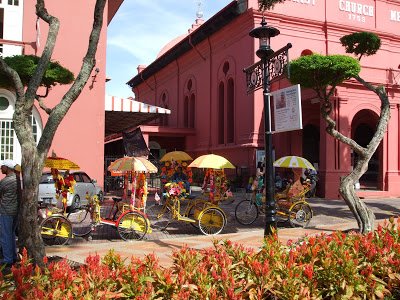 Colourful trishaws that were decorated. U felt like "KINGS and Queens" when u sat on it..


If not for the ice-creams treat, I wouldnt be here..where is mummy? (mummy is 200m away..snake phobia)


Many souvenirs shops to choose from..


Jonker street will be closed on fridays and saturdays for pasar malams/night bazaar. i think start around 6pm because I left about 5.30pm and the stall owners were busy putting out their stuffs to sell..


Riding the trishaws thru all these memorial places brought me back to P.ramlee movie of Hang Tuah. Quite sad actually. Dont want to emphasize because very sad story but the ending is that eventually a best friend was killed by his best friend. And the famous taming sari keris is rumoured to be in Melaka river..


"Kling" is normally a common term refered to indians (last time). There are lots of reaons but one of them I find amusing is that this is due to the "kling klang" sound of the anklets of indian women. But dont use it in Singapore , some of them dont like it..


This is said to be the ONLY malay restaurant/stall in Melaka. Melaka town is a food haven for non-HALAL food. They got chicken rice ball, satay celup (HALAL ones can be found in KL near pudu/ night bazaar.), ice kacang, cendul, portuguese tarts pastries…and lots more..Its like in chinatown..


This stall was recommended by the trishaws..Due to time constraint, we ta-pow the asam fish (which is their speciality) and some ayam kicap and tempeh for 2 person plus 4 hot drinks.(total cost-MYR17) I like the restaurant indoor setting like very "melayu" with the eccentric lamps to the "labu" water where the water is always cold no need refrigeration..

I've tasted the food. not bad..The asam pedas is similar to Singaporean kind only that its not so thick and it uses lots of black pepper and fragrant lime leaves. The rice is of good quality, I can taste it.


Dessert, anyone?
(Visited 10 times, 1 visits today)