One of the night market food stalls beside City square area has some delicious food. One of them is the Kampung style nasi padang. Previously was called Along but now she use her daughter's name instead…i think its called "Kak Milah"..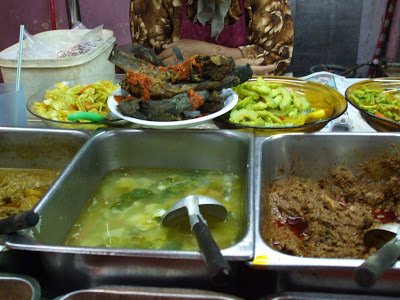 Along/Nek long/Mak Long ("Long" pronounced as "loong" normally addressed to first elder) is so friendly and recognizes her loyal customers even though we come yearly 4-5 times. She even invited us to her "OPEN house" this week!! Alamak week day..hmm, can go or not? *thinking… Malaysia open houses are super SHIOK!!They invited anyone even strangers to their open house to join in their feasting, so sociable..so kampung-like community…


This roti john is soft but crispy , not much meat in it but its YUMMY! No fancy sauce like mayonaise just the good old Roti John..One of the owners cum cook fly over from UK to set up this stall…


Some nice satay, these satay are BBQ the right way not by using the fiery fire (by most vendors thus the satay is burnt/cooked easily) but by slow charcoalled fire (bakar satay gunakan bara bukan api)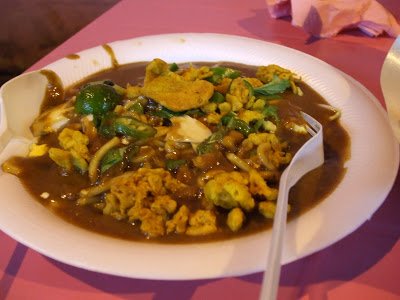 This mee rebus JB is nice. Typical mee rebus but johorian way and then top with small crunchy thing like "keropok"/crackers.
p.s: These shots are not taken by me but by "putri-berendam spies" with their own cameras. Jazakallah! Thank you spies. They are my "mata-mata" (food police)…hehe! but I did join the "makan"ing…
(Visited 7 times, 1 visits today)