This stall sells grilled fish and chicken berempah.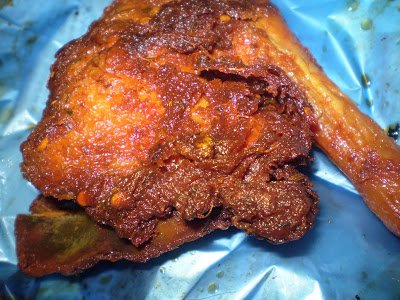 ayam kampung goreng berempah (kampung chicken fried in spices. Not tough as I expected , very soft and spicilicious!!There is also ayam dara-virgin chicken, anyone?

Fried quail bird with spices (burung puyuh berempah)Yummy!A bit spicy for kids though…to me not spicy but my son kept saying "pedas,pedas!" but still wanting more..

Ultimate ayam percik (barbecue) ! Origin of ayam percik is said to be Kedah. This has got to be the BEST I've tried so far…Very moist ,succulent and juicy sweet..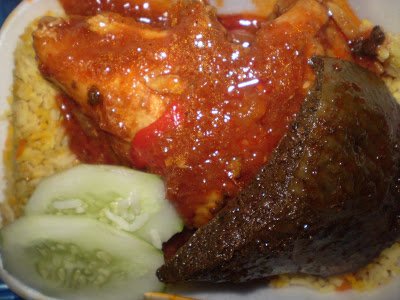 The briyani rice grain is short unlike the ones in singapore which is long.Tasted so good even when cold especially when added ayam masak merah(chicken in red -tomato ,puree and chillies blended) and very tender , not-tough-at-all limpa (i think its cow liver/lungs?)

This is ikan masak lemak tempoyak (fish in fermented durian and coconut gravy) and duck egg cooked in tempoyak lemak(same as above).The gravy is sure-YUMMY! Not so thick but light cocnut gravy with a slight trail of durian smell. SHIOK eaten with rice or nasi dagang!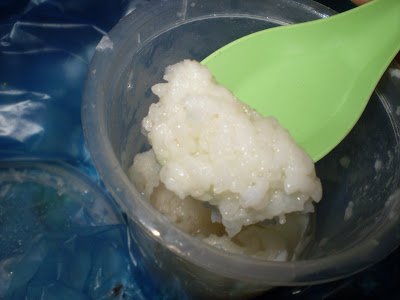 Tapai is fermented rice/tapioca. Rice tasted much nicer and sweeter. Lots of preparation needed to fermented it.And not forgetting the taboos related to it e.g no red colour items should be close to the tapai in the making (big earthen pot) or else the tapai "will not happen".Another taboo, I remembered is that no one should break wind in that vicinity, must be 200metres away perhaps?
I remembered my granny often love to do it when I was a kid And often reprimanded us not to disturb the tapai in the making. Also I got a friend, chinese non-muslim whose granny in Singapore makes GREAT TAPAI (tapioca). After school, I often visits her and she will serve me some yummilicious tapioca tapai till my cheeks glow reddish in heatiness.heee those were the days…

This is Denderam kueh or called amongs locals called it "kueh telinga Keling" (indian ears).Dont ask me why..Anyway it is made of rice flour, gula melaka (malacca palm sugar)..I've tasted the pre-made ones in packet in Geylang but dont like it. But since this is freshly made, I thought of giving it a try to note the difference. Boy, did I made the RIGHT decision. The kueh literally melts in your mouth! Yummy! very cheap and GOOD!RM$1 for 10 pieces only!

They also sell jemput2 pisang/cucur pisang…
(Visited 2 times, 1 visits today)