Nasi dagang power!!


Halba in the dagang fragrant rice placed on banana leaves for extra fragrance..

Lucky we bought 2 nasi dagang from different stalls. This one tasted so fragrant and coconutty (like nasi lemak) and once poured tuna curry over it, heavenly…The rice is like between glutinuous rice and nasi lemak rice combined…the tuna curry that mostly come with nasi dagang is not spicy thick dark curry like indian one but mostly lemak curry (coconut milk is more and its spices are mild)

Nasi dagang stall number 2. There are many stalls selling nasi dagang.

This nasi dagang stall's rice tasted plain if eat on its own. Tuna and curry is given. There is tiny bits of halba (herb).

This green chilli is stuffed with grated flavourful coconut (like urap)delicious.I eat it on its own.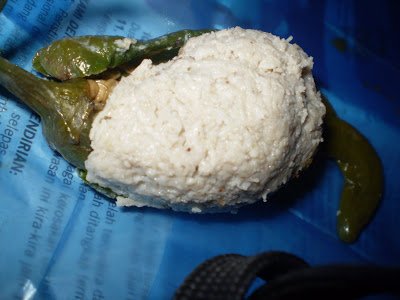 Nasi kerabu/ulam (rice with herbs)

BEST lamb grilled skewer kebab I ever tasted in Malaysia! Very tender, much tenderer than beef kebab…yummy!

BBQ Sting ray fish in shiok sambal!There are many stalls selling bbq fishes and seafood.

Murtabak beef/chicken or both in one!Only $1.50 the size of your palm but the filling is so yummy! Full of meat..grrr!Worth it!

Satar is similar to otak2 (fish paste wrapped in leaves and grilled)YUMMY!Otak2 is small, this is GENEROUS!RM1 for 1 stick-3 pcs.
(Visited 5 times, 1 visits today)