UPDATED 2009-This stall is no longer around but I heard there is another rojak stall by owner's wife somewhere in the same vicinity…
Care for indian rojak or indian mee siam in the early morning?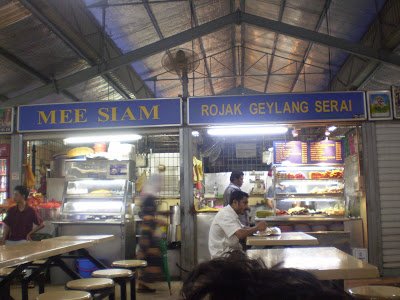 This stall has been in Geylang even when I was small. Years of experience..


As compared to most rojak stalls, they often reheat/refry the ingredients before serving to customer but not this stall.So kinda "healthier".


I love Saji's rojak's fried fritters but prefer the gravy here.And not forgetting its wide choice of fried stuff to soak into the yummilicious sedap gravy and they open as early as 7am.
I've tried the mee siam too. Not bad(years back..)Did not try recently because I've just eaten SAJI's shiok mee siam so macam enough.


Also while enjoying the rojak, my eyes wander (as usual) to other stalls. This chicken rice stall sells chicken rice with sambal.


This stall often has many people buying lontong, mee rebus..i tried the soto(okeylah)beside the mamak mee siam stall.

Mee tepok? (clapping/smacking noodles?)
(Visited 15 times, 1 visits today)