Rasa Sayang House Chicken Rice & Noodle
Blk 3 St George nearest MRT station -Boon Keng (near Sheng shiong Boon keng/5 mins walk behind ADAM coffeeshop)
Halal-certified.


Specialty is Hainanese chicken rice (but i never get to try, either too early or too late.Never be there before 10.30am unless u want breakfast and never be there 8pm on weekends because the chicken rice will HABIS(finish)


When I first sat in this coffeeshop, it reminds me of QIJI. the concept the serving ware but i was fooled, The food is definitely different.And with the owner's cheery morning face brightens up the atmosphere.
They have toasted kaya bread with half boiled egg , mee siam, mee rebus, nasi lemak.Their food prices ranges from $2-3.50. (The sunday that I went, it seems that menu changes and so depends on ur luck, that morning may or may not have mee siam/mee rebus..)
Nasi Lemak consist of green coconut rice, fish cake, hotdog,egg,cucumber, anchovies and nuts and chicken wings and sambal (not bad!)


chicken wing is nice..


Mee siam is a bit different. It has peanutty bits and pieces. It's like mee siam and satay combined (but not too much)Nice also.


Beverages are good. Especially coffee.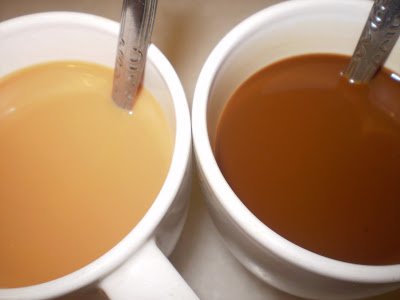 Overall-good experience Love the furniture (can lelong or not?!) Love the cutlery…love the presentation like a restaurant..will come back for the popular CHICKEN RICE…hehe! (if got left)
UPDATED!!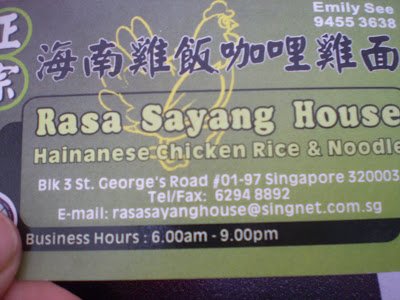 I was told one of its speciality here is hainanese chicken rice. Both roasted and hainanese chicken are not bad. (My favourite is still Evertop (clementi) and hawa (mackenzie) and recent tang tea house(opp. simpang bedok)


Love the curry chicken noodle!! Similar to laksa but SPICIER!! It's like eating Golden pillow 933 but in noodles and much spicier!Lots of beancurd skin, fishcake and chunks of chicken meat and not forgetting big potato! YUMMY!

p.s: I was caught up in the misunderstanding between lady-boss and workers. I had paid to the chinese man who served us but the lady boss thought we did not pay. So ,as we wanted to leave, she asked us for payment….I said we paid already.
Then she said ok, she went to the kitchen and we went on our way, then a worker came chasing after us. I said we paid already to the chinese man.
Then the worker report back to lady boss. We were still in that vicinity. We went to the nearby playground for the kids to play. This time, the lady boss came over. Cross the street and to the playground. This time, there was a "scene", everyone from the cafe started looking from afar at us. Those guilty looks I got…
She apologised and asked again, who did we pay to? I said I paid to that chinese chef who served us. She apologised again and again ..but what for? The damage is done…everyone thought we did not pay.
Kinda spoilt the mood. The entry was ok when she start chit chatting and asked us why we took photos. Then was surprised that we are willing to try her food though we live faraway. Quite touched actually…but the ending is a bit sour…a misunderstanding which should not happen if the boss has a good communication with her workers..And does not embarrased the customers.
We did ta-pow her food one time after that… no grudges held. Just a word of reminder, PAY to the LADY BOSS if she's there…
(Visited 6 times, 1 visits today)