This long road held tons of memories for me. Learning the IQRA,to Al-Quran to tahfiz in various institutions thruout the changi road and Kembangan MRT area.It's been ages since I've been here and recently when I came to visit this memory lane, there are lots of changes..Bustop, coffeeshops (where favourite nasi sambal goreng is no longer there), new buildings popping up even in the tiniest lane..

Anyway this long road has some great food…
I love this small stall of vietnamese food. I love their popiahs and porridge.they got great vietnamese noodles too. Lunch hours are normally crowded. Opening hours 9.30am – 4pm.U can read another blogger's comments or view the food pics here
MAk's place


This place is famous for its delicious fried rice and fried baby squid. Normally open evening till late night. (I think closed on mondays)Nightsters (one who love the night) love to hang out here.
CHAI CHEE SEAFOOD (beside lor MARZUKI)


My favourite SEAFOOD hangout! This is one place I called very economical and YUMMY seafood.I am a fan of their CHILLI CRABS and black pepper prawns YUMMY!
this is KAMPONG CHAI CHEE previously from TAMPINES TELE/techPARK (confused with the nameS?)


I've tried their seafood fried rice in tampines.Not bad, have not tried anything else because everytime I want to go there, the other CHAI CHEE seafood seems to be "seducing" me with killer aroma from their chilli crabs..and so I will backtrack to CHAI CHEE seafood…hehe!
Eh, where is RAZACKS' kitchen ?I think I missed it…Oh it's closed on tuesday…that's why I never get to see the shop.
RAZACK's kitchen (cantonese,sichuan,seafood -owners are chinese muslims)
324F Changi Road
Singapore 419799
Tel: 9691 6982 / 9476 2278
Mon, & Wed-Sun: 11.30am – 10.30pm
(Closed on Tuesdays)
fyi: If there is anything that u wish for them to cook, call them a day in advance. They might be able whip up food of your request e.g roasted whole duck, I was told, the duck was so shiok and crispy. I've tasted their shark fins soup, yam basket. Not bad.I like their porridge/congee whereby they have this half cooked egg inside.Yummy!
Also heard that they sell yummy dim sum too!!
Muslim Confectionery
There are various kinds of curry puffs, kuehs..here..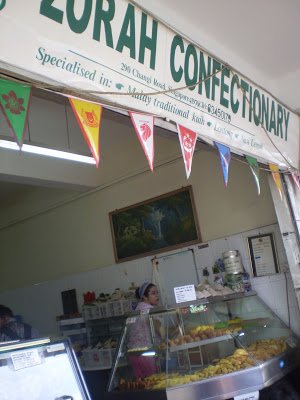 BAGUS YONG taufu


Many varieties of yong taufu. Have freshly made fishball from parang fish, to view the food, click here
(Visited 21 times, 1 visits today)