Adam's Corner Seafood Restaurant
Address:: 943 Serangoon Road
Type:: Seafood Restaurant
Time: 24 hr
Telephone: 6294 1821
Nearest MRT Station: Boon Keng

Best Thai fried rice I ever tasted is @ADAM coffeeshop @BOON KENG MRT. Their food mostly are DELICIOUS! They also sell seafood, western food like steak and kebab.
FAvourites: claypot BAK KUT TEH mutton or beef (unsure), THAI FRIED RICE,nasi padang and lots more..


THAI fried rice with large chicken cuts and prawns plus sotong…YUMMY!$5.Can feed 2 persons.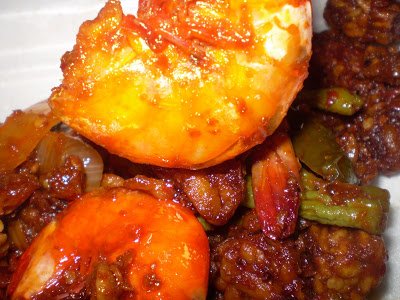 sambal goreng with many big prawns


Ayam sambal
I do not know whether it is 24 hours but their plastic bag state that it is but the coffeeshop did not show any signs of being 24hours or any signage but I think they open till late night.Fyi-beside it, there is a 24hour cofeeshop selling prata and briyani..their curry is sedap!
(Visited 1 times, 1 visits today)