This is a last minute affair. Kinda funny when our newbie taxi driver (just passed)brought us all the way to the passport check in (singapore cars going to jb section) instead of dropping us at the taxi stand. And thus with the custom officer's help and an amused smile, the taxi driver has to u-turn all the way out and bring us back to the taxi stand.Quite an interesting drive..Maybe one day I can drive in…(got license , no car…only "kaki" (pronounce as car-key but meant legs)
We went in the evening about 6pm. Nice scenery from the bus window.


Many people mostly school kids and factory workers and the buses are quite efficient, not much waiting time at the woodlands checkpoint going to JB.
Taxi fare from city square about RM$6 (if use meter) if not about RM8.Or can take bus from LARKIN interchange (buses list as stated in previous post).

This Ramadhan bazaar is one of the longest i know with lots of varieties, about 100m X 2 cause both sides have stalls.I'm always keen on finding bazaars that are "hulu" (isolated) not so popular with tourists like those near shopping malls like Angsana, Carrefour Pandan, Kipmart…
Actually motive to come here is to find AYAM golek (roasted chicken) and Kedah delicacies (I read in foodie forum) like nasi dagang (eversince my mum describe it to me, I have been searching for it…), ayam percik and satar otah2….Found ayam percik and ayam golek but the rest, no luck…
maybe I'm too late, or maybe they moved cos I cannot find it ..By the time I reached there it was 30mins to buka (break fast)Most stalls are finishing up…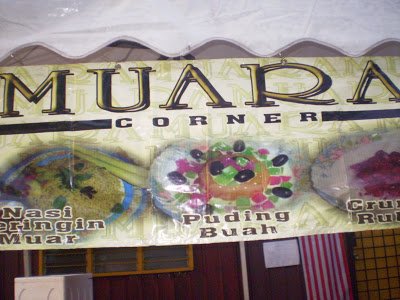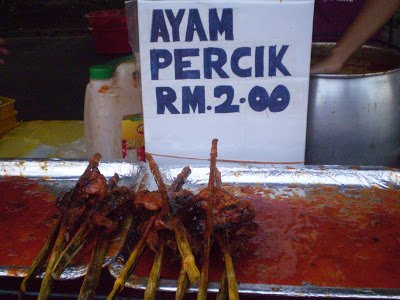 where are the 40 thieves?


ayam golek 1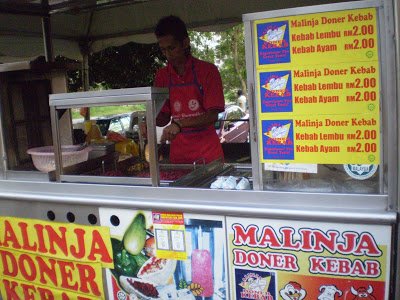 Ayam Golek 2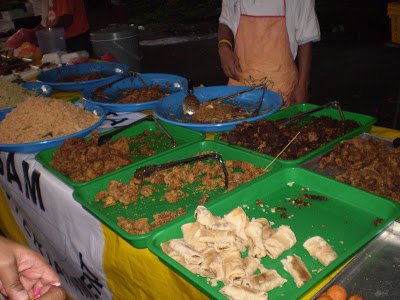 they have food from Batu pahat briyani to Muar delicacies to Larkin rojak, murtabak ,ayam percik, nasi kampung, nasi ambang, fried fritters, fried chicken parts esp. yummy tongkeng(favourite)..rojak, yong taufu, colourful drinks (sensitive tummy better not drink)and lots more and not forgetting the colourful array of fruits sold at the entrance of the bazaar e.g mangoes, dragon fruits, duku langsat…
Overall is a great experience. The food is great. WARNING: If u taste the food in Malaysia bazaar, u will never be the same again…even geylang bazaar will not turn u on..hehheeh!
To me and me alone, the "cons" of this bazaar is that I think the chicken(roasted/percik) a bit expensive (maybe the price of poultry has gone up) because for us, Singaporeans is no problem (because if u come all the way to the bazaar, for sure u have to spend some money rite?)but I heard some male malaysian youth kinda think twice when told about the price of the whole roasted chicken (RM13-14)if half RM7.
For me, I'm not sure about the price of ayam golek but ayam percik is normally bigger for RM2 price like thigh area or drumstick and not chicken wings (normally RM1).But then again, i am a visitor…
(Visited 5 times, 1 visits today)