Sunday …a nice relaxing day for more FOOD..glorious food..
Went to SELERA restaurant @ Mackenzie (actually I wrote about this stall few months back but a recent visitor(Gonggg) from this site "refreshes" my memory on how good the puffs are..and so I gotta reminisces the past..Thankx!)

Had my favourite Duck Rice, I think it cost about $4. DELICIOUS. I like the rice and the duck meat so SHIOK…(THey also sell whole roasted duck)
Close-up.

Then had century egg porridge. The porridge has chicken bits and lots of century egg pieces. I was told long, long time ago, century egg was preserved in Horse urine?!! But not anymore…
And lastly , is their FAMOUS SELERA CURRY PUFFS!90 cents each.And not forgetting their crispy fried bananas(chinese type unlike the malay kind of fried banana fritters)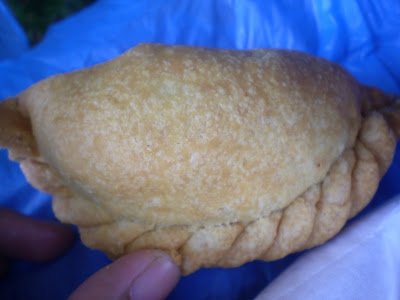 Curry puffs fillings..

No need to say anything..just heavenly…sunday!
p.s: They also served seafood dishes like prawns, crabs, tofu hotplate, western food like beef steak and fish and chips. The small servings starts @about $8 or $10 but the servings are HUGE!Great for BIG families…I saw 2 men ordered large plate of fried rice each and some fried chicken..Seems YUMMY!
(Visited 2 times, 1 visits today)