Actually, I was about to revisit the Hady Mirza's family satay stall opposite BANQUET Ang Mo Kio. Its been ages since I last went. But to my dismay, the hawker centre was undergoing upgrading (again?!!)And so I walk around aimlessly..till I saw long queues were formed..and I sneak peek..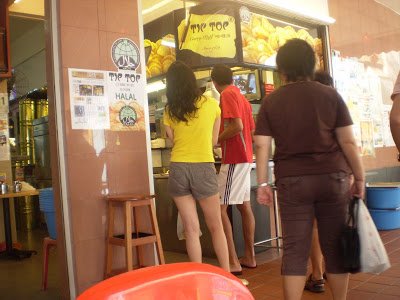 Alhamdulillah the TIP TOP curry puffs is HALAL!! This shop has been around since 1979. Look at the queue kept forming every few minutes…
Each puff is $1. The queue was WORTH IT! It was delicious! The curry spicy taste of potatoes inside it so SEDAPPP!! There is egg too.
And when we bought them, they were piping hot. The puffs were continuously made by hand. When it runs out, just wait 5mins and another batch came. I was sitting at the coffeeshop watching the queue grow longer and longer and more people kept coming. Like neverending..

So good u can even dip in coffee!
The location is near JUBILEE cinemaplex.Blk 722 Ang Mo Kio Central #01-2843 Opening hours 9.30am – 9.30pm daily.
(Visited 2 times, 1 visits today)