that I ever seen in my ENTIRE life….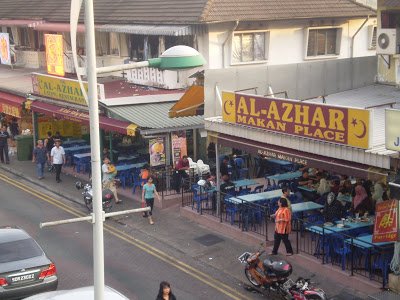 As I was utterly disappointed as not to be able to eat the delicious SATAY @ AMK ,I decided to try the so-called "LONGEST" satay at Al-Azhar 24 hours coffeeshop located @11/11A Cheong Chin Nam Road opposite Beauty World. Furthermore it is SATAY Amal..for DARUL QURAN.
I used to frequent this place for delicious ice-cream prata and milo GODZILLA which is not only topped with whipping cream but ice-cream too! And lots of MILO powder. And so today, I order again..the MILO GODZILLA!
Back to the scrumptiouslicious SATAY..It is about an arm-length.30 cm perhaps?

It is made of sirloin beef.SEDAAPP! SHIOK!! Cost less than $2 per stick. Long POWER chicken satay cost 90 cents each. The normal satay is very YUMMY too! Cost about 50 cents each..


U gotta wait for 10-15mins for your satay.It was worth it! GREAT!SHIOK!SEDAP!This really helps erase my disappointments away….Mutton Satay is the BEST! The chicken satay is not dry but tender and juicy! a MUST TRY!
Close-up of "normal" chicken satay.


Oh..and the satay sauce is very "blended" not chunky peanuts. Similar to KAJANG satay sauce without the sambal.
p.s: I'm supposed to go to Bt Batok to try Taufik Batisah's fav curry puff but change of plan..heheh! ada hikmahnya, I ended up @ AMK tip top curry puff instead…hehehe!!!
(Visited 2 times, 1 visits today)