UPDATE!! DEC 2007 >>THIS PLACE HAS BEEN REPLACED.

SHOP NAME: MALAY ECONOMICAL RICE
LOCATION:EXTRA 1 eating house @FARRER PARK mrt EXIT B.near BLK 681 race course road.
Recommended:(Breakfast) Plain kway teow, (lunch)tempeh goreng (crispy fermented beancurd),fried chicken parts (7am till lunch time)


Admist the chinese food stalls, u might miss this malay stall if u did not look closer. They have great breakfast treat. Closed on sunday, though.Their concept is similar to chinese breakfast whereby their dark plain kway teow goreng (plain but SEDAP sekali!!So good u can even eat it on its own)is only $1. And u can add chicken wings, hotdogs…otah..(extra charge)

They also sell lontong, nasi lemak..


But what I love is their tempeh goreng kinda like indonesian version. Fried strips of crispy tempeh(beancurd) in spicy kicap. POWER!! Best eaten with nice hot rice freshly cook!i's salivating just thinking about it.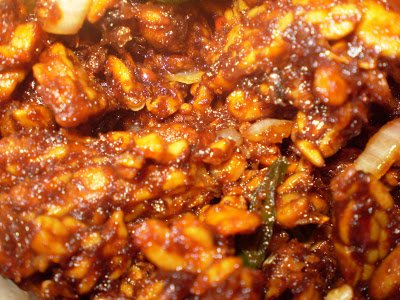 And I love their big fried chicken parts (love the thigh section)
(Visited 12 times, 1 visits today)