Update:2009-This restaurant is closed.

update: Jan/Feb 2008
This restaurant has moved from Tampines Mall to…
(went few days after chinese new year 2008)
p.s:There's a Price increased.Oysters seems to shrink smaller in size but still as fresh.
Family International Buffet Restaurant,
Ngee Ann city (beside Seoul garden)
# 05-30/31,
67363688

The difference between the current restaurant and the former one is the PRICE and the size of OYSTERS..its very GIGANTIC!! double the size of previous ones….
And again, the buffet is good only for people who loves raw items especially oysters, sashimi, japanese sushi, soba…and stuff. It is FRESH and good! The rest seems to pale in comparison. Worth paying the price if u only love these things! If not , best to go for other buffets…

—————————————————————————–

4 TAMPINES CENTRAL 5#03-01
TAMPINES MALL SINGAPORE 529510
TEL:67868888 FAX:67858336
$21.80++-LUNCH (11.30AM-4.00PM)
$25.80++-DINNER (5.30PM-10.00PM)-about $30.35 per person
$12.80++-CHILD WITH HEIGHT OF 110-150CM
(1 KID BELOW THIS HEIGHT IS FREE BUT IF 2 KIDS-HAVE TO PAY 1 CHILD RATE)
FRI,SAT,SUN EVE of PH &PH-ADDITIONAL $2
Ok, let's Take a deep breath and CHARGGGGEEEEE!!
Ah, the aphrodisiacs..OYSTERS!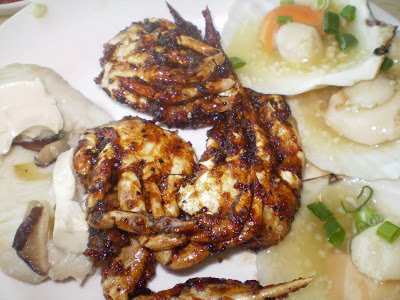 I love the black pepper crabs. YUMMY!
More cold seafood ,mussels…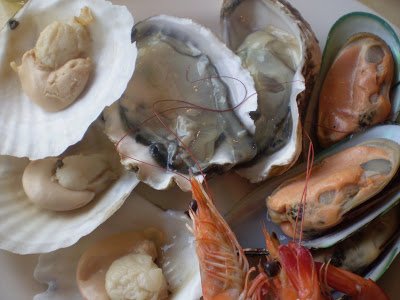 Grilled Salmon head and eel (I think?!)

Sashimi..


From Clockwise-pink ginger pickled,konbu,lemon,seaweed, raw fish sushi,raw tuna sushi,unagi sushi,raw octopus, and more sashimi(the horseradish aka wasabi in the sushi is mild and not overpowering just nice for me!)
to be continued…
part 2: http://www.linamasrina.com/2007/08/tampines-family-international-buffet_13.html
(Visited 5 times, 1 visits today)