DELICIOUS dosai….(malay called it "TOSEI"). This place is hidden and is not well-known.It is located near campbell road. But in the morning, u can see it is PACKED! With many indians, malay…most of them 40 years old and above male. Must be a favourite haunt for OLD TIMERS!this place is called TIFFIN BHAVAN.
Often I passed by but too shy to try….but today, I was there when it just opened and thus I was one of the first customers. And at the wall, I looked at the menu. They have many kinds of food, such as rava dosa, masala thosai, idli, puthumayyam, coconut rice.. They also have certain BRIYANI of the day..e.g TUESDAY is fish curry, mutton ribs, mutton biryani…
We tried one masala dosai(It cost only $1.50.)@the shop and tapow some home. There are 3 sauces that come together with the dosai. 1 is the coconut, the second is light dalca and third is the spicy. And there is another EXTRA sauce!!!!which is sort of like a fish/ikan bilis paste. YUMMY! Never taste liket his before.
RAVA MASALA DOSAI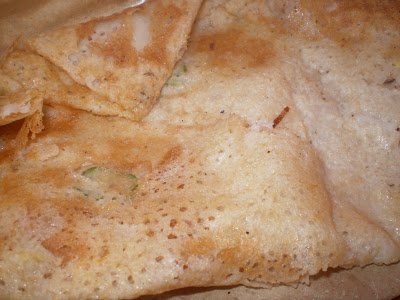 (Visited 2 times, 1 visits today)