is another sideline hobby.For sure, watching a soccer match in other countries is such an overwhelming feeling. The atmosphere is a "loss-for-words". The fans are more emotional. The fans are all out in POWER to cheer for their heroes. I dunno how to explain..the hairs on my arms stood at its end from the beginning of the match till the end. u can feel the whole stadium storm with energy! Im really, really loss for words. If u got the opportunity, GRAB IT!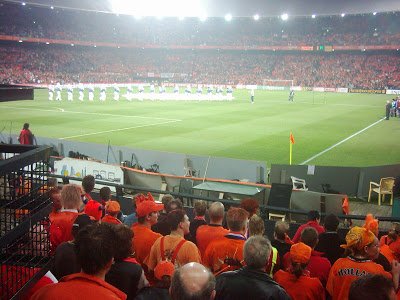 Most stadiums that I've been are in Singapore, Malaysia, Europe (mostly Holland and its vicinity and UK)Not necessarily the famous ones but the unknown ones too. I dont really know the list by heart but I do know some and alhamdulillah get to watch some LIVE soccer matches/training too… such as de kuip aka Rotterdam stadium (KNVb vs France), AJAX @amsterdam, Philips, willem2 ,old ARSENAL stadium (arsenal vs ??), Bt Jalil stadium (Brazil vs Malaysia).I remember when in Bt Jalil stadium, the Malaysian spectators sang their national anthem with so much emotion that I got goosebumps…(menusuk ke kalbu).
One of the memorable moments is watching the STARS in soccer practice. U can get to see them in great physique and their true personalities.. So far, I have watched, France team and feyenoord. And I've seen Thiery Henry (even got his autograph,woo-hoo!), Barthez (so young-looking!awet muda..pheewit!) and others.. They are so friendly and not arrogant!I get to videocam them without having any security issues. (but too bad, it's Hi8 disk or I would have put on youtube!)
Their training is kinda fun…not so serious as I thought


Second team that I watched in training is the feyenoord team when Shinji Uno is still in the team (ages ago). He is one down- to-earth guy! The digicam has a start-up problem and he waited patiently for it to be ok for about 5mins?!! (before his training) and then he smiled and pose for camera. So gentleman…

In Holland, if there is a KNVB match, the whole country seems to be in "ORANJE GEAR". Shops, towns are decorated with orange ornaments and people all dressed up in orange jerseys or t-shirts even though some cannot get tickets. It was so atmospherically KNVBness! Large Tv screens/projectors in town cetres. And u can hear the "GOAL!" from ur nearby residence. The atmosphere is like "WORLD CUP season", everyone seems to be having a soccer frenzy fever madness!!

For local soccer, I do support them. For sure, we've watched many matches @ Jalan besar stadium and the national stadium.The most recent, I watched Singapore veterans vs Malaysian veterans and AUSTRALIA vs Singapore in the ex-National stadium.
For sure, I will be back! Next goal is to watch in UK, especially Manchester United stadium. But i am satisfied for having the opportunity to watch my favourite teams -Singapore,Brazil, France and KNVB in action.
yours sincerely,
No.1 KNVB fan,

(Visited 10 times, 1 visits today)