opposite Sultan Mosque/Arab St
Opening hours -7am-7pm everyday

I used to frequent the neighbouring HJH Maimunah (Jln Pisang) for her Nasi Padang dishes.But after getting to know this place, it became my FAVOURITE! DOnt' get me wrong, they have their own specialities .I still LOVE Hjh Maimunah ikan bakar, ayam bakar (chicken and fish bbq) and also siput masak lemak (snails in coconut gravy) but other than that..I will prefer Rumah Minang.
Fantastic dishes at hawker fare. U can choose to sit in the natural air (downstairs)or air-con UPSTAIRS(I think there might be a surcharge if u chose upstairs. Query first). Their favourite HOT PICKS are: Tahu GORENG (Fried crispy fresh soyabean cake covered in smoothering spicy crunchy peanut sauce), fresh coconut and gula melaka CENDUL, fried chicken,asam pedas, succulent tenderlicious RENDANG..oohlala…Malay desserts..and lots more!ratings: 4.999 out of 5 stars!!DIE-DIE must try!
RENDANG

SAMBAL SOTONG

SAMBAL BELACAN


POWERUL Tahu Goreng

CENDUL for the "FINALE"
After that , with a full load, walk it off to "tapow" some MURTABAK (with chicken/mutton fillings) @ ZAM2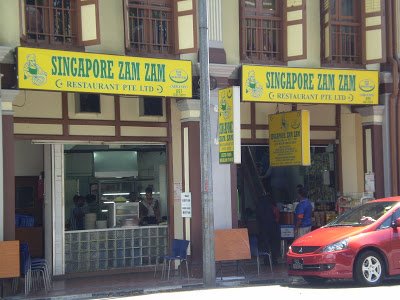 …and then take a stroll to nearest shopping centres at BUGIS, SIM LIM …to be continued
(Visited 5 times, 1 visits today)