UPDATED!!! This shop has moved to the back of the coffeeshop, smaller shop…



If u would like to taste Pakistani bangladeshi food, u can try this "Mr ahmad Khan" stall @ kitchener road beside Serangoon Plaza.. they sell a variety of curries, spicy dishes including briyani and big bloated squarish potato puff. I selected a BIG tandoori chicken drumstick and curry potatoes and cauliflower plus plain basmati rice -$3.80. YUMMY! Very satisfied!

Also there is south indian food which is very popular from the queue (but i don't think its halal) and also inside deep within there is a malay stall. I saw many people eat their mee siam. too bad, i came too late.They just sold out their last mee siam. Also their Roti John ($1.50) is a big hit! The chilli sauce is freshly made chillies unlike the typical chilli sauce. Very nice! They also sell yummy nasi padang.

the mee rebus ($2) also not bad.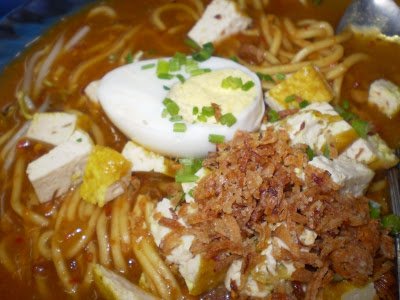 Even the nasi padang dishes are sold out! Must be good! Hmm, i must be there early next time! I went there in the evening about 6plus.
Overall great experience. 4.5 stars! Will come back to try their mee siam. the location is opposite the "future city square" . The coffee shop is called "Hi-five".
(Visited 5 times, 1 visits today)