HAve u watched Channel 5 MAKAN places-lost and found by Gurmit and Michelle and felt so GERAM cause cannot eat those YUMMY Lookinglicous food?!
Well last week /last episode of the season, I watched them slurped this soupy steamed buns (originate from Shanghai)and said to myself ."Where to find HALAL ones?" I even surf our neighbouring countries sites and try to find. ALhamdulillah, I was venturing new makan path lately at Middle Road. And GUESS WHAT?!! I found one shop at Ah-Mei Cafe. HALAL food court. The shop is tended by a china-looking man (dont look local). I saw the poster stated xiao LONG PAO! YIPEE! My tummy was jumping in joy…

So we ordered. It took him about 10 mins for the xiao long paos. My hubby ordered chicken bao. I think both buns are steamed freshly only when u ordered. The chicken pao took another 15 mins. But both oh taste so nice. The long paos, tasted like there is a chicken broth inisde with minced chicken meat. 5 pieces cost about $4. I ate 3 and felt full.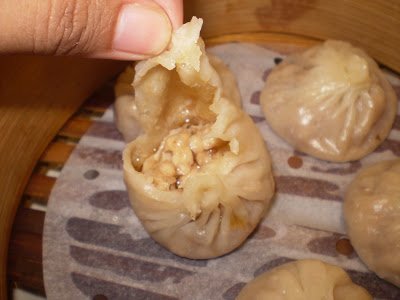 The chicken bao meanwhile taste so fresh and inside there are lots of goodies, egg, chicken, vege..and ..Very FRESH and homemade..unlike the ones we are subjected to instant buns "halal TIM SUM" machine found in oil pump stations/ 7 eleven/cheers..
MUST -TRY!!! 4.599 out of 5 stars.
Chicken rice also not bad..cost about $3 for roasted chicken and taste better than the Halal chinese chicken rice @ prinsep street even cheaper. 4.5 out of 5 stars.
Chow down ur food with a glass of Ah-mei milk TEA! Very refreshing, unique taste and so SEDAP!
This foodcourt also have affordable western food (ends at 8pm) but the food court ends till 10pm and also kaya toast (it runs out pretty fast! have not tasted it yet.everytime want to order, finished oredi?!!)
(Visited 30 times, 1 visits today)