It's not vegetarian dish.It's a vegetable by itself.Another name for it is MOORINGA OLIFERA .When I first saw the name in the vegetable section,I thought either it look like drumstick or taste like one. But it is neither heheh!!
But it has many benefits for our body. It is well-liked by indians.
"Drumstick leaves help high blood pressure, the fruit tones up the heart and circulatory system…." -excerpts from this site
"The seed is often used to purify dirty or cloudy drinking water. It is pounded into small fragments, wrapped in some sort or cloth, and then placed into water jars or containers. *This pounded seed acts as flocculent, taking impurities out of water solution…..
….Pound drumstick pods and/or leaves to form a paste and then mix it with lemon juice and get rid of pimples and the scars left by them…"-excerpts from this Blog
I've tried my first dish with drumstick leaves

Egg omelette with drumstick leaves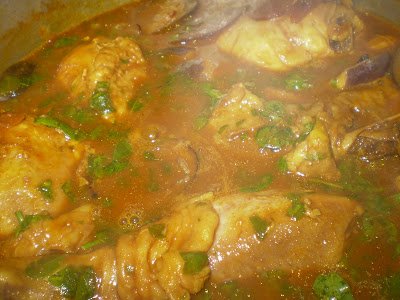 2nd DISH :Curry chicken DRUMSTICK with DRUMSTICK leaves

HEY! A real life drumstick leaves plant in the neighbourhood balcony…
For more info:
Click here :recipes 1 / recipes 2 / benefits 1/ benefits 2 /
(Visited 2 times, 1 visits today)