Updated April 2008: Dpatah has informed me that this BANQUET BRANCH is closed .

the MAKAN route…
Time taken: 2 hours (9am-11am)


Went to BANQUET near middle road there and tried their promotional prata -2 plain pratas for $1.VERDICT : 3.5 stars out of 5 stars. Their CURRY is a must try SEDAP! Thick sardine fish curry.
Tried the freshly made beancurd at famous SHORT street. There are 2 shops.The closed one (in the picture) opens later till night. Tried both and preferred the closed one.2nd BEST will be the stall @ Jalan Besar. 3rd best is the RED banner shop (left in picture)- though there were many workers (@the time we were there)but they are not that helpful.Ratings: 3.5 out of 5 stars!

Then we tried the AH MEI kaya toast. 3.5 out of 5 stars! Preferably more butter and kaya please…
Walking towards Sim Lim, we have to go thru bencoolen street and waterloo street.I think it is in the Fortune centre building/beside the NAFA school, there is a nasi padang stall called "SYAM Corner".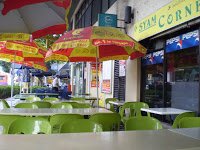 One look from the back door, I was about to pass it till, I caught something in the corner of my eye. I was about 5 metres away and even though the chicken drumstick look small from afar. I knew this is very special chicken drumstick. I have a flair of detecting DELICIOUS chicken by "1st-impression GLANCE". heheh! So my DB went thru to the front and what a big collection of dishes. And they were piping hot (it was 10.20am). The dishes were brought out from the kitchen. WE ordered sardines curry puff, chicken drumsticks and sambal sotong!
sambal sotong

and the soft crusted with lots of onions sardines puff

VERDICT-Have tested and its FANTABULOUSly Scrumptious.. The marinating in the chicken can be tasted in every part.The sambal sotong is the ULTIMATE! No bitter after taste of "kapor" or weird smell. Like my friend's mom who use to cook BEST SAMBAL SOTONG nasi lemak which I've been seeking since she passed on.
I've yet to taste the other dishes but for now, the Chicken and sambal sotong deserves a 4.999 out of 5 STARS! Insya-Allah, I will be BACK!!
(Visited 2 times, 1 visits today)