I love authentic ASAM pedas. My favourite is of course my mama's cooking.Below is from my favourite stall- Nasi Bawean (near Mustafa centre)
This is my favourite asam pedas fish head

This is my bawal (white pomfret) asam pedas…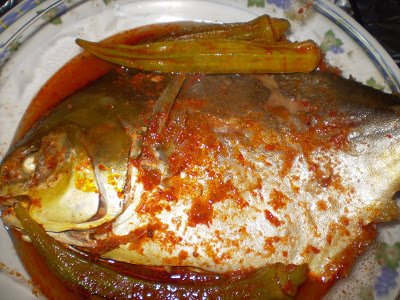 my "asal-boleh" asam pedas…(i'm not so sure about the quantity used cause I just "gasak" follow my instincts).
1)10 dry chilli
2)4 big onions
3)3 garlic
4)fresh tumeric/kunyit
5)ladies finger 5-10pcs up to individual)
6)a handful kesum /laksa leaves
7)whitepomfret/stingray/mackerel tuna..(clean and washin asam/lime/vinegar water)
8)asam/tomatoes
9)serai/galangal/blackpepper (optional)
1)Soak the dry chilli in water.Remove the water and blend 1-4 ingredients together.
2)Heat the oil and fry the blended ingredients till fragrant.Add fish, water and asam (dry/jawa). Add ladies finger whole and kesum leaves. Mix well and wait till fish is cooked..served with hot pipping rice.
p.s:Some prefered to add serai and galangal and black pepper to make it more powerful. Some use fresh chillies. Can use chilli boh or instant chilli paste from supermarket but not as nice.
(Visited 4 times, 1 visits today)