Updated 2009: These unlicensed food vendors are no longer around.But u can still get Julmuri in the lil indian food stalls near Mustafa area on Sunday.I think Mohammadi have.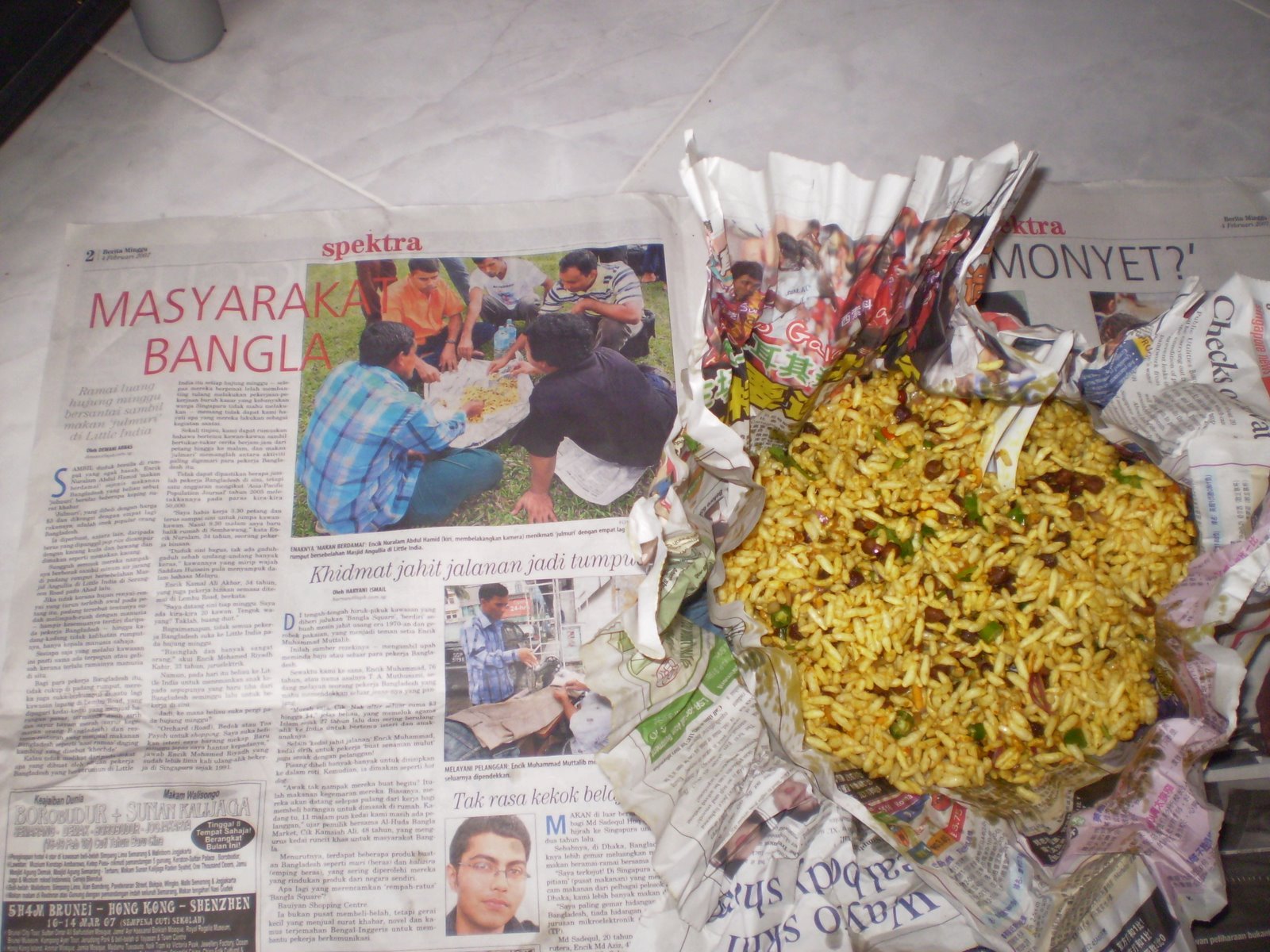 What is JULMURI?!! It consist of rice pops…and some onions,nuts, beans, chillies, crackers, murukku..and assortments plus a some kind of gravy/sauce poured all over it. It's similar to eating "popcorn" in cinema. But it's taste is so much DIFFERENT! It's GREAT!! Especially eating with your friends and when u got lots to talk about , Just chat and eat like the Banglas did on sunday.It's cheap $2 julmuri can feed 2-3 person. U can ask for $3 ..$4 and so on.
We've tried in the food stalls version and the "unlicensed" ones on the fields in front of mustafa centre. VERDICT: The yummiest ones are the UNLICENSED Ones cause the Rice POPS are crunchiest, and spiciest and u'll never know what u will get(individual vendors has their own different version of julmuri). Of course , we ask whether it is HALAL..and mostly it is cos they are Muslims.
I always see there are mountains of yellow rice pops thingy on shops on Sundays at Serangoon. Wondering what they were and suddenly a berita Minggu wrote about it. And no time to waste, we tried it on sunday. (This was done february 2007 actually)
4 out of 5 stars!! a MUST-TRY!!!Cost about $2,$3,$3…(up to customers) "Rugi kalau tak rasa."( U will miss out if u did not try)Kids can try but WATCH OUT for the tiny chillies!! Very PEDASSS (spicy)!!
(Visited 2 times, 1 visits today)