Puteri Pacific Hotel
Jalan Abdullah Ibrahim
The Kotaraya
PO Box 29380730
Johor Bahru,Malaysia
Reservation:1800-888-533
Telephone :607 219 9999
Fax:607 219 9998
E-mail :info@puteripacific.com
http://www.puteripacific.com/
Which hotel do you think Putri loves to stay in JB? Puteri Pacific of course! (note the resemblance in my name and the hotel's name)–> Putri=Puteri=princess)
I've always liked to take time off and come here for a short getaway. I like its location, near the causeway (I always have this thought that if anything goes wrong, I can always "run" to Singapore heheh!) and also the bustling shopping centres and the nightly food bazaar nearby.
For a night , it cost about $SGD 80-90 (the cheapest room). The breakfast is good, good service and good staff, good and clean rooms with bath tub each. Nice scenery, big swimming pool.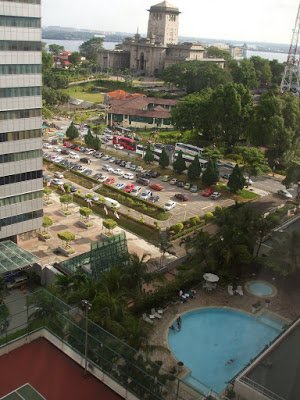 Normally, we will have international buffet breakast but during Ramadhan, muslims have the "Sahur" breakfast, whereby they will give u room service of food at 4.30am. U cannot choose the food though, its pre-ready and served. I was told that the same yummy rendang will be our sahur just like last year but this time round, it was different. Everything was diferent!


It used to come just like when we ordered room service but this time it came in tiffin. More dishes and sadly, no rendang… but there are … duck egg (not so saltish, just nice)


I think this is the lemak ayam that gives out the "smell"..

Soft tofu


I like these crunchy fresh long beans, the freshest among the dishes.
Fish fried in chilli
A very savoury dessert (so lemak!)

One disappointment factor. There was a strong smell in one of the coconut gravy dishes. It smell as though it was turning bad anytime …Did not create a fuss, did not call the staff either. I was disappointed that the food came like "leftovers" or perhaps, they cooked at night. Hmm…
This time, the service wasnt as good as before, the food disappoints me, the iftar buffet looked ordinary (I went to the lobby to take a peek), hmm…perhaps they are under different management now …

The toiletries werent there when we checked in…we asked for extra shampoo/soap but they refused us, normally they are willing to…(budget constrains perhaps) and so I went to a nearby supermarket and bought a GIGANTIC bottle of luxurious body foam and shampoo. hehe!
Enjoy the scenery…
The scenery…from my hotel windows: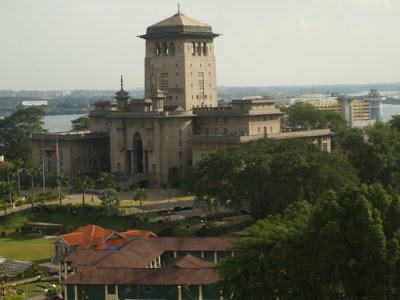 Next time, perhaps, the HYATT? Hmm…near my celop-celop food bazaar :
http://putri-berendam.blogspot.com/search/label/celup2
Next post will be about the nearby Ramadhan Bazaar (near Kotaraya) insya-Allah…
p.s: Yeah, they still have the dim sum alacarte/buffet at the chinese restaurant below… (thanks for asking!)
(Visited 12 times, 1 visits today)